World CHAMPIONSHIPS-silver Kromowidjojo, 50 butterfly, also medal mixed relay
Ranomi Kromowidjojo has Saturday surprisingly silver get caught in the 50 metres butterfly at the world swimming CHAMPIONSHIPS in Budapest. Later in the day took the Netherlands in the 4×100 meter freestyle mixed relay team also a silver medal.
The 26-year-old Kromowidjojo touched in the final of the 50 butterfly as second behind the Swedish Sarah Sjöström, who is all-powerful and in 24,60 a new kampioenschapsrecord swam.
Kromowidjojo swam in Budapest at the non-olympic distance, a thick personal record in 25.38 mm. That was one hundredth of a second faster than the Egyptian Farida Osman, who finished third.
It is the first individual medal for Kromowidjojo on these championships. Previously came fifth in the final of the 100 metres freestyle. However, she won bronze with the estafettevrouwen on the 4×100 meters free battle.
Day 15 of the world swimming CHAMPIONSHIPS
Ranomi Kromowidjojo swam handsome for silver in the 50 metres butterfly.
© ANP
Sarah Sjöström was by far the fastest.
© ANP
Egypt's Farida Osman picked up bronze.
© ANP
Later in the evening, placed Kromowidjojo as fourth for the final of the 50 free.
© ANP
Sjöström swam that distance and passing, a world record.
© ANP
Share this photo via:
Back to slideshow
50 meters free
"This is supernice. A thick personal record and second of the world in a strong field. This I had at the beginning of the season not expected. Behind Sarah end is not a bad result," said Kromowidjojo after her silver race against the NIS.
Later on Saturday came Kromowidjojo also in action in the semi-finals of the 50 metres freestyle. They klokte therein overall the fourth time, allowing them to Sunday should start in the final battle. Compatriot Tamara van Vliet saved not in the semi-finals.
The world cup the last big titeltoernooi of Kromowidjojo. They will decide in the autumn whether they are her career continues.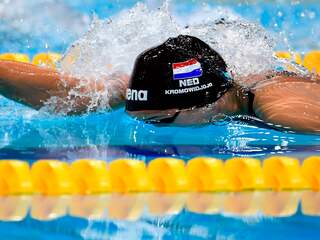 See also:
Kromowidjojo as the fourth to the world cup final, 50 free, world record Sjöström
Relay
Later in the evening, picked up Kyle Stolk, Ben Schwietert, Femke Heemskerk and Kromowidjojo on the mixed relay team also silver. On the 4×100 meters free were only the United States faster.
The Dutch team klokte 3.21,81, good for a new European record. The U.S. recorded a new world record in 3.19,60. The bronze was for Canada (3.23,55).