Tammie Hagen, who in more than two dozen dogs and cats during the Hurricane Florence, has been charged with practicing veterinary medicine without a license. (GoFundMe)
A North Carolina woman was arrested Friday after 27 dogs and cats they took in during the Hurricane Florence were seized from her hiding place, researchers revealed.
Tammie Hagen, founder of Crazy's Claws N Paws animal rescue, is charged with practicing veterinary medicine without a license. She is also charged with soliciting a donation of tramadol prescription pain reliever sometimes used for dogs and cats.
Hagen said she gave amoxicillin for some of the sick animals, and also a topical antibiotic ointment.
Hagen told the News-Argus of Goldsboro for she felt that she had to help the animals during the storm.
close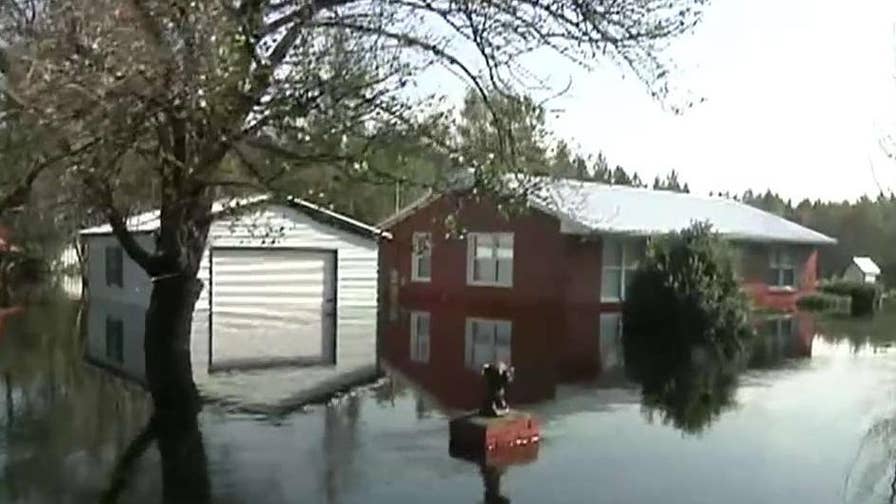 Video
Many areas in North Carolina still flooded after Florence
Flooding expected to get worse in Brunswick County, North Carolina. Bryan Llenas has the story.
"The owners had to evacuate. They got to save themselves. But who's going to save those animals? That is what we did," Hagen said. "We saved them."
"Our mission was to save as many animals from the flood that we can," Hagen added.
In a statement, Wayne County officials said animal control officers "serious concerns about the practice of veterinary medicine without a license, and the presence of controlled substances."
Supporters are rushing to her defense. An online fundraising page has collected more than $11,000 for her legal defense as of the night of Sunday to Monday.
Wayne County is about an hour's drive southeast of Raleigh.
The Associated Press contributed to this report.
Frank Miles is a reporter and editor related geopolitical, military, crime, technology, and sports for FoxNews.com. His e-mail is Frank.Miles@foxnews.com.