connectVideoPolice: Woman slashes two young women in the Bronx
Woman chops two young women, after the men try to touch the suspect that the dog on an MTA bus. The incident was reported Monday afternoon in the Bronx, police said.
Two women who tried to pet a dog on a New York City bus was struck by the pooch's angry owner on Monday, police said.
The incident happened shortly after 2 a.m. on board the BX2 bus in the Melrose section of the Bronx, after a verbal argument among the group turned into a physical fight.
One of the victims is a 22-year-old woman, suffered cuts to her face and head, while the second woman, 20, received a cut to her left arm.
"I got cut on my face, because I went to go touch a dog," the 22-year-old woman, who does not give her name, told PIX11. "I didn't know that the dog is a service dog."
Both victims off the bus and walked to a hospital, where she sought medical care.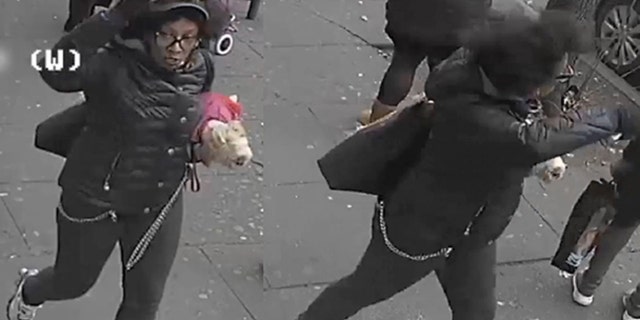 The woman has reportedly cut off the two other bus riders as they petted her small dog on Monday in the Bronx.
(NYPD)
The police said that the suspect in the attack, who wore a black shoulder bag and a small white dog, also got off the bus and fled the scene in a green SUV taxi.
MASSACHUSETTS POLICE ARE HUNTING WHALES JAW BONE THIEF
The suspect, who is described as a woman between 30 and 35 years old, was last seen wearing a dark colored baseball cap, a black waist-length jacket, black pants and black and white sneakers.
Anyone with information about the attack is urged to contact the NYPD Crime Stoppers Hotline at 1-800-577-TIPS(8477).