Coach Sarina Wiegman think that the Oranjevrouwen with their way of playing can make all the difference at the world cup next summer in France.
As European champion, the Dutch football to the outsiders counted for the gold. The group of favorites consists mostly of countries that already have the service part in the women's: the United States, Japan and Germany, while also France many to expect at the world cup.
"The American women set the tone at this moment," says Wiegman. "I think we have quite a lot of players have that are of the same caliber or even better. But they can ninety minutes the gas, and rams. We are going to the world CHAMPIONSHIPS, more of these 'fighting machines' to take."
"If you down want to play football, you should absolutely be fine. At times, we are also a fighting machine, but we can distinguish ourselves by positional game at the highest level to play and so under pressure to play football. That still needs to act faster, have better coordination and more skills than the EK. That is our challenge."
See also:
Miedema: "People forget sometimes that I have a guppy ben
'It is mainly a matter of fresh to be'
About the physical condition of its selection makes Wiegman't worry. "These girls train day in, day out. It is now in the preparation especially the case for fresh to become and stay fit."
"We want to make our game play even better tune. At the european CHAMPIONSHIP 2017 has played almost any country in a 4-4-2 system. Now we are also against teams that are 5-3-2 or 4-3-3 play. There must be something else opposite. That means that we have our game also need to develop further."
Wiegman will receive Monday, the last two players from its world cup selection, Lieke Martens and Shanice van de Sanden. She goes over to her and plenary group working towards the friendly on 1 June in Eindhoven against Australia.
Three days later flies Orange to Le Havre, where on June 11, the first world cup match against New Zealand is played. The netherlands is in a group with Cameroon and Canada. The numbers one and two and the four best numbers three of the six pools will advance to the eighth finals.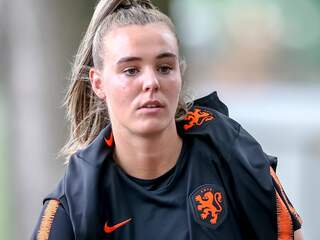 See also:
Roord hopes on world cup women finally no longer a 'number 12'