Vioolactivist injured in demonstration in Venezuela
Photo: AFP
The Venezuelan violinist Wuilly Arteaga is Saturday during riots in Caracas were injured to his face and to a hospital.
Arteaga grew over the past months, by the in the battle throwing his instrument, one of the best-known faces of the opposition movement against the president of Venezuela, Nicolás Maduro.
The coalition Democratic Unity had called for a protest march to the Supreme court, where the legal vassals of Maduro are. The riot police blocked the protesters with armoured vehicles and shields the passage. The confrontation got out of hand. Masked youth threw stones and Molotov-cocktails, overheidstroepen shots from engines with tear gas.
There were several wounded, among whom Arteaga. The 23-year-old musician became famous in Venezuela for the lines of the national anthem and other popular tunes to play. Saturday he was in the wrong place at the front. His morale appeared to be unbroken. With thick lip and gauze on the face from the bleeding but with violin and bow at the ready, let Arteaga from the hospital, a trooper said. "Tomorrow I'm back on the street."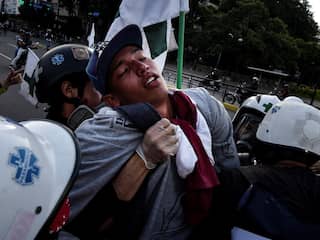 See also:
Heading Venezuela to a civil war?