connectVideoHelicopters necessary to evacuate a cruise ship off the coast of Norway
"Relatively low" oil levels on the Viking Sky in response to the cruise ship's engines problems in the weekend for the coast of Norway, an official said Wednesday.
The ship had more than 1300 passengers and crew members on board signalled for help on Saturday after the engines cut out in the middle of stormy weather.
The "cause" of the ship of the problems was an insufficient amount of lubricating oil reaching the engines, Lars Alvestad, the acting director-general of the Norwegian Maritime Authority, said, according to The Associated Press.
CRUISE SHIP STRANDED OFF NORWAY'S COAST REACHED THE PORT AFTER THE HARROWING HELICOPTER RESCUES
"The heavy sea probably caused movements in the tanks is so great that the supply of the lubricating oil in the engine pumps stopped," Alvestad said. "This caused an alarm that indicates a low level of the lubricating oil, which, in turn, shortly thereafter, an automatic shutdown of the engines."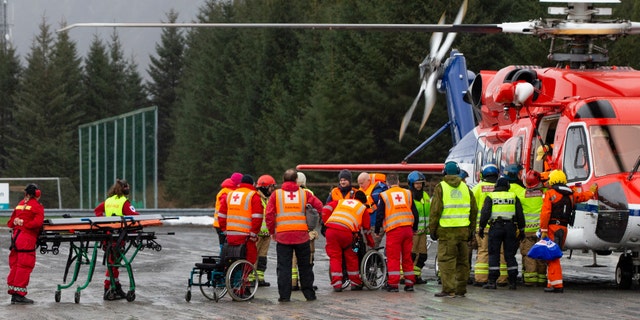 Passengers are helped from a rescue helicopter in Fraena, Norway, on Sunday, after being saved from the Viking Sky cruise ship.
(Svein Ove Ekornesvag/NTB Scanpix via AP)
The Viking Sky managed to anchor in a bay, allowing workers to begin the evacuation. Five helicopters were used to individually air transport of passengers from the ship, such as rough conditions excluded evacuations by boat.
CLICK HERE FOR THE FOX NEWS APP
The rescue operation ended Sunday when the engines are started after 479 passengers were airlifted to the country. The ship traveled on its own power to a Norwegian port with nearly 900 passengers, and the other members of the crew on board.
The Viking Sky "suffered power 'black-out' in difficult weather conditions," Alvestad said, adding that the ship, the low oil levels were still "within certain limits."
The Associated Press contributed to this report.