Vice-president Zanetti praised the work of The Farmer at Inter
Javier Zanetti vice president of Internazionale, has on Monday praised comments about the work that coach Frank de Boer carries out for the club from Milan.
The 43-year-old Zanetti, who between 1994 and 2014 for Inter uitwam and in that period, including five league titles and the Champions League won, find that The Farmer is the right man for Inter.
"He's doing great. It is logical that he the in the beginning difficult and he must be the Italian football still to learn, but he shows that he is a great professional," said the former defender at Radio Rai.
Zanetti will see that the game of Inter, under the direction of the Dutch trainer improves. "Inter is growing match by match. Hopefully they're going to participate in the summit of the Serie A."
Sunday suffered Inter in own home disappointing loss of points against Bologna: 1-1. The formation of The Boer state is currently third in the Serie A with eleven points from six matches. Behind leader Juventus is four points.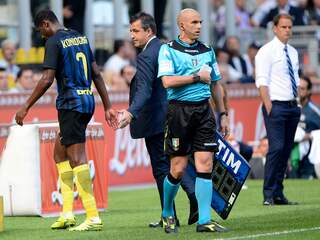 See also:
The Farmer lays blame of an accident, Inter in the midfielder Kondogbia
Kondogbia
The Farmer took midfielder Geoffrey Kondogbia against Bologna after just a half hour to the side. The former trainer of Ajax was unhappy about the risky game of the 23-year-old Frenchman.
"He realized that something had to change, and doubted not to do that", is Zanetti understanding about the change of The Farmer. "We need Kondogbia is now not afserveren. He brought in that contest, just not what Frank wanted."
The 145-times Argentinian international will find that The Farmer with Inter not need to flip, the defending champion Juventus. "We are a different club and a different way of working. We want to be successful in our own way."
Thursday is The Farmer with Inter on a visit to Sparta Prague in the group stage of the Europa League. Three days later, the uitduel with the AS Roma Kevin Strooman on the program.
View the programme and the position in the Serie A