nearvideo-Bernie Sanders announces 2020 White house bid
Sen Bernie Sanders, I-Vt., announced on Tuesday he will race another bid for the presidency by entering the already crowded 2020 -.
Sanders made the announcement in an interview with Vermont Public Radio. The full interview is published to be set later on Tuesday morning.
DEMOCRATS IGNORE BERNIE SANDERS' 2020 ANNOUNCEMENT, WHILE HIS SOCIALIST POLICIES
"We started the political revolution in the 2016 campaign, and now it is time to move the revolution forward," he told the radio station.
Sanders is also a video of the announcement of his intentions to be published to run.
When rays President of Trump as a "pathological liar," Sanders said he's running to pursue policies such as universal health insurance and a $ 15 minimum wage — elements he sat down in 2016, but since has been adopted by a number of other candidates in the field.
Sanders, a progressive populist, indicating how a democratic, socialist, and a serious fight against the Democratic competitors Hillary Clinton are liable to primary in 2016.
He joins a field that already from the top Democratic Sens. Elizabeth Warren, Kamala Harris, Amy Klobuchar, and Cory Booker. And two of the progressive legislators in the Senate – Sherrod Brown of Ohio and Jeff Merkley of Oregon – are also serious presidential bids.
Sanders, 77, has had to do in the last few months, with sexual harassment and abuse controversy stemming from his 2016 campaign staff, which triggered an apology from the senator.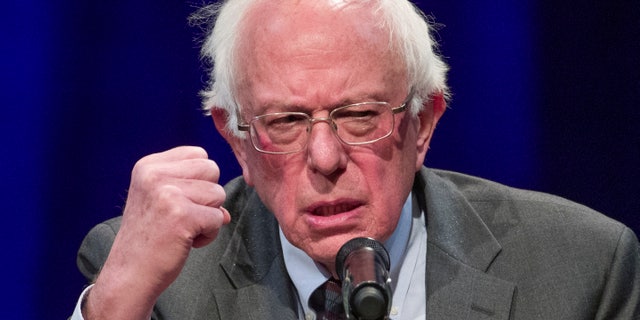 FILE – In this November. 27, 2018, file photo, Sen. Bernie Sanders, I-Vt., talks about his new book, a George Washington University/politics-and-prose-of the event in Washington.
(AP Photo/Alex Brandon, file)
CLICK HERE TO DOWNLOAD THE FOX NEWS APP
But Sanders is still very wide degree of popularity and the strong support of the Progressive across the country widely. In New Hampshire holds the first primary in the race for the White house, a steering Committee, of the top supporters of his 2016 campaign continues to meet on a monthly basis.
Fox News' Sarah Tobianski and Paul Steinhauser contributed to this report.