Kickboxing
Verhoeven's best in the prestigious battle against Lazaar
Rico Verhoeven has Saturday in Den Bosch the prestigious battle with Ismael Lazaar won. The 28-year-old kickbokser was by the jury unanimously declared the winner.
Both men are world champion heavyweight, only for different organizations. There was in the Brabanthallen, no world title on the game. Lazaar made in Den Bosch his debut for Glory, the organisation of which Verhoeven for some time under the contract.
The 1.96 meters long, Verhoeven hoped his height and reach advantage against the 14 inches smaller Lazaar. The fight began at a very exploratory qualities, but Verhoeven did the first two rounds unanimously to attract.
Verhoeven was also in the rounds then the judges almost unanimously declared the winner, making him the Morocco fighting Lazaar ultimately easy on points defeated.
It was the first fight for Verhoeven since he in december of Badr Hari won in the "kickboksgevecht of the century" in Oberhausen. There was also no world title on the game, but the expectation is that that comes on quickly.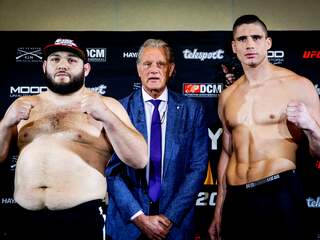 See also:
Verhoeven expect 'war' in kickboksgevecht against Lazaar