Venezuela's chief prosecutor's office dives under after dismissal
Photo: AFP
Luisa Ortega Díaz, the public prosecutor of Venezuela, who last week from her office, was put in fear for her life and is in hiding. Ortega is known as one of the fiercest critics of the Venezuelan government.
Ortega is known as a fierce opponent of president Nicolás Maduro, and so can in all probability count on persecution. The 59-year-old jurist is on the flight.
"I don't know what dark intentions or plans there are to me not only my freedom, but also of my life to rob," said Ortega about the government. She feels constantly rushed, therefore it is in hiding and changes from day to day from a shelter.
The new constituent assembly of Venezuela, which, according to opponents of the government only in the life is called to be the opposition offside, dismissed Ortega last week as a public prosecutor. Ortega had just before an investigation is announced to the controversial election of the constituent assembly. That consists only of supporters of Maduro.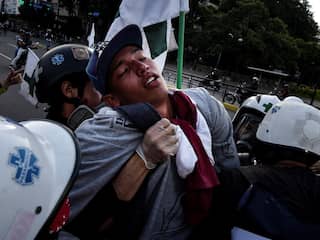 See also:
Heading Venezuela to a civil war?