Venezuela tackles leader failed rebellion Valencia
Photo: AFP
The leader of the failed rebellion in the Venezuelan city of Valencia is captured. Minister of Defense, Vladimir Padrino said that this is a hard blow means for "terrorism".
Approximately twenty people came to Sunday in rebellion against the government of president Nicolás Maduro. The resistance in Valencia was led by Juan Caguaripano, a former captain of the national guard. "This is not a coup, but a military action to the constitutional order, to restore. We require immediately the formation of a transitional government," he said in a video.
The rebellion at a military base was quashed. According to Maduro, it were not soldiers, but terrorists who are in a uniform had put into it. A number of insurgents managed to escape where a manhunt ensued.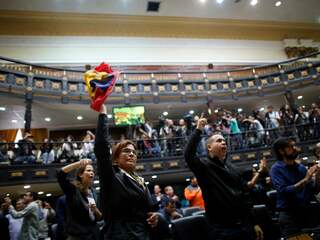 See also:
Background: Why does the voltage in Venezuela is going further and further?