Windsurfing
Van Rijsselberghe best at Delta Lloyd Regatta, silver master Builder
Dorian van Rijsselberghe has Saturday gold caught at the Delta Lloyd Regatta in the RS:X class. The two-time olympic champion won the decisive medalrace on the IJsselmeer. In the women grabbed Marit Bouwmeester in silver.
The windsurfer ended in that last race as the first for the Frenchman Oël Pouliquen, and the Italian Matteo Evangelisti.
Kiran Badloe ended in the semi-finals as the fourth and did not through the herkansingsrace to qualify for the final between four windsurfers. That was Matthijs van 't Hoff. That was in the final fourth.
Bouwmeester ended up in the Laser Radial as a second. The olympic champion won on Saturday the medalrace, but the Japanese Manami Doi finished ninth. That was just enough to get the victory.
In the final held Doi two points ahead on Builder. The Italian Silvia Zennaro, was third. Daphne van der Vaart ended the Regatta finished as twelfth.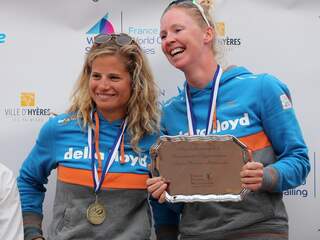 See also:
Zeilduo Zegers/Van Veen grabs silver at the Delta Lloyd Regatta