Football
Van den Brom, quite shocked at the heavy collision Wuytens
Photo: Proshots
John van den Brom regretted Thursday night a lot of the 1-1 draw by AZ against Dundalk (1-1), but the coach was particularly relieved that the relatively well with Stijn Wuytens.
The Belgian midfielder scored in the 60th minute 1-0 for AZ, but was hard in collision with the Irish keeper Gary Rogers.
Wuytens remained unconscious lying and was minutes be dealt with on the field. The players of AZ, who Wuytens saw, seemed excited and the stadium was dead silent.
"Given the circumstances, the best reasonable," said Van den Brom. "He is now, for further examination in the hospital. The first reports from there are that he probably has a concussion has occurred."
AZ-Dundalk in the picture
AZ is bad started the group stage of the Europa League.
© ProShots
In own home was a 1-1 gelijkgespeeld against the Irish Dundalk.
© ProShots
AZ played a good match and thought through Luckassen lead, but his goal was disallowed for offside.
© ProShots
AZ came eventually, however, the lead through the Belgian Stijn Wuytens.
© ProShots
Wuytens collided with the keeper Rogers and had a few minutes to be treated.
© ProShots
Eventually, Dundalk shortly before the end alongside after a header from Kilduff.
© ProShots
Share this photo via:
Back to slideshow
Panic
According to Van den Brom got Wuytens in making his goal a sharp blow on the chin of goalkeeper Gary Rogers. "There was on the field immediately panic. Stijn was just outside knowledge. Some players responded very emotionally. Stood, with tears in the eyes. That gold also for me. The shock was great."
About the competition was the AZ-trainer short: "We certainly have not played well. It a shame that we can verify that liberating goal to still profit out of his hands. But that is currently of secondary importance."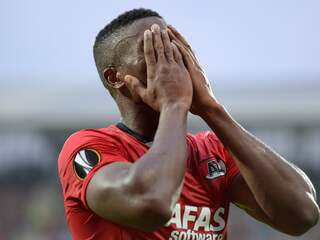 See also:
AZ plays Europa League match with Dundalk equal