Van den Berg wants that victory to Norway just the beginning of a fantastic european CHAMPIONSHIPS
Mandy van den Berg enjoy after the 1-0 victory Sunday in the opening match of the european CHAMPIONSHIP, but the captain emphasized that the Oranjevrouwen not going to float through the beautiful start of the tournament.
"We remain with both feet on the ground, that we don't agree against each other to say", says van den Berg for the camera of NUsport. "We do know what the big goal is the european CHAMPIONSHIPS. This should be the beginning of a fantastic CHAMPIONSHIP."
Van den Berg could enjoy the game of Orange and the atmosphere in the sold-out Galgenwaard.
"This was I think one of the best matches I with Orange played I have all these years. The result was top, because Norway is an absolutely topland. But we have also dominated. And the willingness and the fight in the team was great."
Smetje
Any smetje was that Orange against the world champion of 1995, with many more to win than 1-0. The team of coach Sarina Wiegman missed a lot of opportunities and the rake header from Shanice van de Sanden felt therefore after 64 minutes as a liberation.
"We had much earlier, lead can be come" aware of the 26-year-old Van den Berg, who, in spite of the long absence of a goal, not worried. "I saw the determination and the sameness in the team and so I knew that would come. We remained patient and the chances kept coming. Though it was nice when the ball once invlooog."
Exploit the opportunities therefore appears to be only what could be improved in the direction of the next group matches against Denmark (20 July) and Belgium (24 July). "We need to score more indeed. But that is the only point. Furthermore, I can the team just a compliment."
Orange open european CHAMPIONSHIP women with victory in Norway
The eleven who were allowed to start.
© ANP
© ANP
© ANP
© ANP
© ANP
Joy by Shanice van de Sanden after its 1-0.
© ANP
Joy afterwards.
© ANP
Share this photo via:
Back to slideshow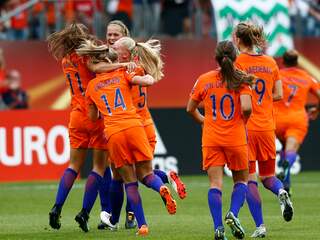 See also:
Orange wins openingsduel EK women of Norway