Van den Berg thinks that Orange is not on a tie should bets against Belgium
The Oranjevrouwen have Monday to a point enough in the final group competition of the european CHAMPIONSHIPS against Belgium to the quarter-finals, but captain Mandy van den Berg is not that the Netherlands is on a draw play.
"We are not going to start. We should be there from the start, full of folding," says Van den Berg against NUsport. "We want Belgium broken play by passing the ball around, a lot of opportunities and hopefully a lot of scoring."
It feels for Amber and the 26-year-old Van den Berg a bit strange that there is so much pressure on the match at the Koning Willem II Stadium in Tilburg, because the team of coach Sarina Wiegman is still without point loss, after wins in Norway (1-0) and Denmark (1-0).
"A crazy situation", says Van den Berg. "With six points after two games, you're usually sure of the next round, but in this crazy pool not. But well, that keeps us nice and sharp. I want to go with nine points."
Careless
Point of care towards the duel with the Belgians is that Orange Thursday against Denmark, a very weak second half delivered. It was mainly to keepster Sari van Veenendaal, thanks to which the Danes do not have at least a point and got.
"In the first half we had control, I did not expect it in the second half, as would tilt", look Of the Mountain back. "Of course, went to Denmark opportunistischer play, with a lot of long balls. But it is too easy to achieve our own weak game good to talk to."
"The organization was gone, and through carelessness, we held the ball more in the team. Against Belgium should absolutely not happen again."
The netherlands against Belgium begins Monday at 20.45 hours in the Koning Willem II Stadium.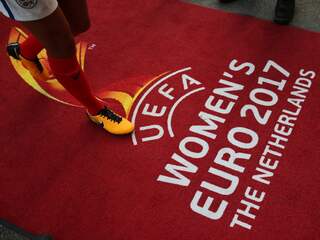 See also:
Summary: Results and program european CHAMPIONSHIPS women