Trainer Giovanni van Bronckhorst acknowledge that the turmoil that this season is Feyenoord has implications on mood and the performance of his team.
"You notice the last few months, the negative atmosphere, also in the stadium, will influence the team," said Van Bronckhorst Friday at his weekly press conference.
Feyenoord this season already in the preliminaries off in Europe, and lost in the semi-finals of the TOTO KNVB Cup and the Eredivisie as the number three aiming behind leader PSV and number two Ajax.
Wednesday made the citizens of Rotterdam announced that technical director Martin van Geel after this season departs from The Cockpit. The Dutchman was certainly over the past weeks, the main brunt of criticism for the Feyenoord-supporters. "The negativity towards my person was too great to continue," he said.
"You notice that there is negativity around the club, certainly in recent months", says Van Bronckhorst, who is himself after this season also leaves at Feyenoord. "For me, it's not something new, but of course it is not normal. For me it is quite clear that you can only perform if it is quiet."
See also:
Van Geel: 'Negativity was too great to continue at Feyenoord'
"There are consequences after defeat'
Feyenoord lost two weeks ago in the previous round of the Premier league with 2-3 of Willem II, the second thuisnederlaag of the season in the league and seventh in total.
Van Bronckhorst called the performance of his team against Willem II "below standard" and alluded that he measures it would take. Friday he didn't want to say much about what surgery he is going to do for the away game on Sunday against number six FC Utrecht.
"There are certainly consequences have been after the duel with Willem II. That do not necessarily mutations are on the field, it may also be something in the preparation for the race. You will see on Sunday what the consequences have been."
FC Utrecht against Feyenoord starts Sunday at 14.30 hrs and is under the direction of Serdar Gözübüyük. Defender Jeremiah St. Juste and goalkeeper Justin Bijlow are the only one in Feyenoord.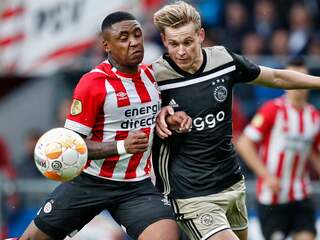 See also:
Remaining program clubs Eredivisie
View the programme and the position in the Premier league