UN sees violence in Myanmar as a textbook example of ethnic cleansing
Photo: AFP
The violence with regard to the Rohingya in Myanmar looks like a textbook example of ethnic cleansing. That has mensenrechtenchef of the United Nations Zeid Ra'ad Al-Hussein on Monday explained.
Al-Hussein is calling on the government of Myanmar to stop the military operations and large-scale discrimination of the Rohingya, a muslim minority in the country.
The mensenrechtenchef argues that the escalating violence in the state of Rakhine "goes", and not in connection with the events on 25 August, when muslims police and legerbases attacked. The armed forces in Myanmar were previously know only to respond to those attacks.
The violence of the past weeks has certainly four hundred human lives. According to the UN, are now to 270,000 refugees to the border with neighboring Bangladesh crossed, and an unknown number at the border, and stopped. The secretary-general of the UN Antonio Guterres said last week, his fears for an ethnic disaster.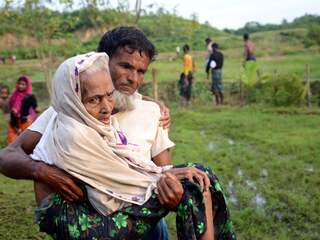 See also:
Background: Why are 'second-class' Rohingya will not be welcomed anywhere?
Mass murder
The outbursts of violence against the moslimgroep in Myanmar keeps the tempers already longer busy. This spring, presented the UN with a report already discussed that the security forces of Myanmar are guilty of would make to massacres and rapes against the Rohingya.
The Burmese leader and nobel laureate Aung San Suu Kyi then let know in a comment that there is no ethnic cleansing against the Rohingya. The governments of Bangladesh, Indonesia and Pakistan have Suu Kyi called on to do something about the violence against the muslims.
Battles Myanmar
A regeringsmilitair keeps watch during an operation against insurgents.
© ANP
Military love checks in the area where the battles take place.
© ANP
By the fighting, thousands of Rohingya muslims fled.
© ANP
Houses have gone up in smoke and several citizens were killed.
© ANP
Refugees at the border in Myanmar.
© ANP
Share this photo via:
Back to slideshow