UN Security council calls for deëscalatie of violence in Myanmar
The UN Security council has the violence between the ethnic moslimgroep Rohingya and security forces in Myanmar on Wednesday condemned. The board makes a call, the violence is not to let escalaren.
The UN Security council was Wednesday behind closed doors to be informed about the violence in Myanmar. That was done at the request of Great Britain. The British ambassador Matthew Rycroft from the United Nations showed on Tuesday know that there are urgent appointments are needed about the situation in Rakhine, a state of Myanmar.
The council urges Myanmar now to the lives of all citizens, without discrimination, to protect, and calls on Bangladesh to refugees. Rycroft: "We are seriously concerned about the situation in the country, and call on you to deëscalatie."
The eyes of the UN to focus on the government of Aung San Suu Kyi. In early February beat the United Nations in a report of alarm about the violence against the Rohingya. Security forces would be on a large scale have been guilty of murder, rape and torture. The nobel prize winner rejected this spring that there is ethnic cleansing against the Rohingya.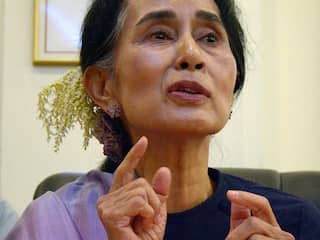 See also:
Suu Kyi contradicts ethnic cleansing in Myanmar
Influxes of refugees
The last week of the fighting with islamic militias in Myanmar flared up. Thursday night carried militia coordinated attacks on thirty different police stations. People were definitely 104 kill. The army responded to the attacks with 'cleaning actions'. The are the most violent confrontations in five years time.
By the violence of the past week, as some 18,000 Rohingya from Myanmar to Bangladesh fled, the International Organization for Migration (IOM) Wednesday, know. There are also a lot of refugees stopped at the border. More than four thousand would, in a no-man's land in the border area.
In the predominately buddhist Myanmar, the Rohingya are not citizens. They are considered illegal immigrants and are thus virtually rechteloos. Since the early 90s, there are estimated to be more than four hundred thousand Rohingya from Myanmar to Bangladesh fled.
According to the IOM, there is serious need for food, medicine and shelter. Many children would be shot and burns, and traumatized.
Battles Myanmar
A regeringsmilitair keeps watch during an operation against insurgents.
© ANP
Military love checks in the area where the battles take place.
© ANP
By the fighting, thousands fled.
© ANP
Houses have gone up in smoke and several citizens were killed.
© ANP
A border control in Myanmar.
© ANP
Share this photo via:
Back to slideshow