UEFA president thinks to a maximum number of contractspelers at clubs
The president of the European football association, UEFA, Aleksander Ceferin, wants to take after the turbulent transferzomer of 2017 changes in the field of Financial Fair Play and calls for a limitation of the number of contractspelers per club.
"We must adapt the rules and modernise. The hole between the big and the small clubs is getting bigger," says Ceferin Thursday in an interview with the German Sportschau.
The 49-year-old Slovenian, who last year Michel Platini succeeded as the top boss of UEFA, is of the opinion that the development of the towering afkoopsommen not able to stop. "But we can make the process so slow, we must do something."
Ceferin thinks of setting a limit to the number of contractspelers at clubs. "So we can get the rent out of players reducing. Some clubs have at one time fifty players under contract. Many clubs lead itself is not more talent, but they buy and borrow them out."
Legislation
Ceferin indicates that it is by no means certain that the measure it actually is.
"I know that ECA chairman Karl-Heinz Rummenigge and former UEFA-president Michel Platini with the European Commission talked about, but said that it was impossible because of the European legislation. It is uncertain, but we will see what we can do."
Ceferin gave in the interview also, but once again to know that he is the summer transfer want to shorten.
"I think that the market is open too long. It's weird that the season has started already and that you still have a transfer you can make. We conduct serious discussions on this topic. It would not be a bad thing to the window in July to let it end."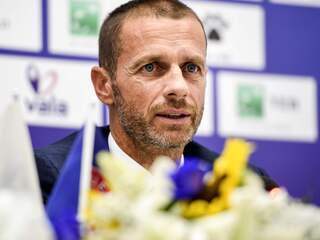 See also:
UEFA president Ceferin is open for a shorter summer transfer