Uber may be important evidence in a lawsuit against Waymo not use
Photo: AFP
Uber may be an important piece of evidence not to be used in the lawsuit against the Google-sister Waymo. With the evidence you wanted Uber to demonstrate that no technology stolen from Waymo, where the taxi service is accused of.
That a judge has determined, writes Recode. Waymo, sister company of Google, claims that Uber is benefiting from the stolen technology of the company, by former employee Anthony Levandowski would be taken to Uber.
Uber wanted during the trial, evidence is put forward to demonstrate that Levandowski other motives had to the fourteen thousand files that he Waymo stolen would have to download. He would have done this to ensure that he had a bonus would be getting Waymo's parent company, Alphabet. Uber would the information have never used them, saith the scheduled defense.
A judge decided, however, that Uber this theory may not present in the case. Levandowski would be his motives, namely revealed to have compared to former Uber-ceo Travis Kalanick in an interview with an advocate of the company, Angela Padilla.
The content of a conversation between a lawyer and a client is covered under a non-disclosure agreement, which makes Uber this is not to the outside may bring.
Uber stated, however, that Padilla does not constitute legal advice gave, making the call does not fall, but the judge did not agree.
Waymo
Waymo states that the story which Levandowski the files downloaded to make sure that his bonus would get nonsense. "It is entirely fabricated," says a company spokesman. "The extreme measures that he took to the digital fingerprints of his actions to erase, do not point to an innocent motive."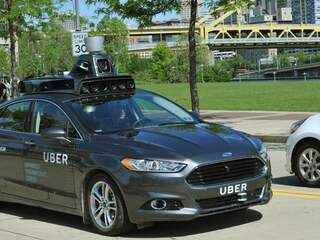 See also:
How is the lawsuit of Google sister Waymo against Uber?