James Melville, the U.S. Ambassador in Estonia has resigned.
(Department Of State)
The U.S. Ambassador resigned in Estonia from his post on the Frustration with President Donald Trump's recent comments about the European Union and the treatment of the European allies.
James D. Melville wrote in a private Facebook message, that he decided it was time to resign from his post after Trump's comments on how the EU is "setting up, the advantages of the United States, to attacks on our piggy Bank" and that "the NATO is just as bad as the NAFTA."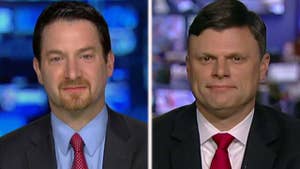 Video
The former Obama officials in the EU: Don't be Trump's doormat
In a statement on Friday, the State Department Melville confirmed the departure.
"Earlier today, the United States Ambassador in Estonia, Jim Melville, announced his intention to retire from the foreign service effective 29. July said after 33 years in public service," the speaker is.
Trump's "piggy bank" were the comments during a rally in North Dakota on Wednesday.
"We love the countries of the European Union. But the European Union is, of course, was set up to the advantage of the United States," he said. "And you know what, we can't let that happen."
The remarks are the latest in the midst of a continuing escalation of a trade war between the United States and the rest of the world.
On Wednesday, the President doubled down on his claims that the EU is cheating, the United States on trade, said the U.S. lost $ 15 billion in trade with the EU last year.
"We had a trade deficit, because they send the Mercedes, sending the BMW, you send your products, we send things to them, and they say, 'no, thank you, we do not take product you," he says. "That's not the way it works, and for all those who are free traders – this is not a free trade, stupid trade. I told them that if they treat us, and you do not take your obstacles, if you do not intend to treat us fairly then we will control all the beautiful Mercedes-Benzes."
Melville is a senior U.S. diplomat who has served as the American Ambassador to the Baltic nation and NATO member Estonia since 2015. He served in the state Department for 33 years.
The U.S. Embassy in Tallinn, did not immediately comment.
The Associated Press contributed to this report.
Lucia I. Suarez Sang, a Reporter for FoxNews.com. You can follow her on Twitter @Lucia Suarez sang