Two dead in attack on house vice president of Kenya
Photo: AFP
In the attack on the residence of the Kenyan vice president William Ruto in the city of Eldoret, Saturday an armed man and a police officer to the accident, reported to authorities Sunday.
About the motive of the attacker, nothing is yet known.
Seen the had exchanged fire, thought the police initially that there is more than one attacker was, because he was different firearms used. "But after we got him off had, had we but a dead man, and our policeman that he had killed," said a politiewoordvoerder.
Police said Saturday that a man with a machete behind the attack was. The attacker would an agent have beaten with a machete. He would then have had access to an armoury of the guards and their weapons captured. "The weapons that he used, were of us," said the police.
According to the local media went over the block just before the attack of the house to campaign. The Kenyans are going the beginning of August to the polls. President Uhuru Kenyatta, the boss of Ruto, hopes for a second term was re-elected.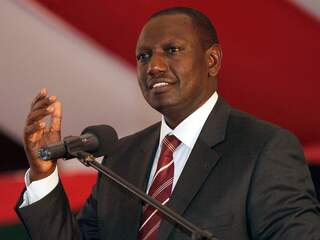 See also:
House vice president of Kenya attacked