Football
Twente gets Bunjaki of Eintracht Frankfurt, Bayern-talent to Ajax
Photo: FC Twente
FC Twente on Deadline Day reinforced with Enis Bunjaki of Eintracht Frankfurt. Ajax pulled a talent of Bayern Munich, while Kevin Diks on a rental basis returning to Vitesse.
The 19-year-old Bunjaki draw at FC Twente a contract for a half season with an option on another two years. The attacker played in the first team of Eintracht Frankfurt.
Bunjaki was born in Germany, but also the Kosovar nationality. The former German jeugdinternational played with Twente player Bersant Celina a few training duels for Kosovo.
"This step feels very good. FC Twente is a beautiful and large club. Talented young players get the chance to grow," says Bunjaki Tuesday on the site of Twente.
"Players like Ola John, Eljero Elia and Luuk de Jong are here to become great. I know the history of FC Twente a bit and know that the fans here really like their club. Luc Castaignos (former team-mate at Eintracht Frankfurt, red.) has me also about the club, told and said that this is a good step for me."
Jan van Halst, manager of general affairs of Twente: "It's great that we have the selection to have to add a young talented attacker. Bunjaki several positions in the front from the feet and at FC Twente, he gets the opportunity to show what he has. We are confident that this will succeed."
Enis Bunjaki comes from @Eintracht and sign up for a half season at #FCTwente (with option for 2 more) Enis, welcome!… https://t.co/flIEvKmaDs
Avatar


Author
fctwente
Time of placing
13:29 – 31 January 2017
Ajax
Ajax is reinforced immediately with the 17-year-old Antonio Trograncic, as confirmed by his old club Bayern Munich.
The young Croatian gold in Germany as a great talent. On his fifteenth should the midfielder of trainer Josep Guardiola with the first team train, though he was this season at Bayern under-17 no fixed value.
Trograncic, in a recent trial and completing it in Amsterdam, starts at Ajax in the A1.
FC Groningen
Danny Hoesen by FC Groningen final for a year, leased to the American San Jose Earthquakes. The American club also has an option to purchase stipulated in the striker, reports general director Hans Nijland of Groningen Tuesday.
Vitesse
Vitesse hires Kevin Diks the rest of the season from Fiorentina. The right back was last summer, sold to the Italian club.
Diks came the past few months cannot go further than two short games, to score at Fiorentina. "The move to Fiorentina was great," says the 20-year-old Diks nevertheless, on the website of Vitesse.
"Suddenly you come into a different culture. Defending in Italy is really seen as a profession. I have as a footballer and as a man, learned so much in the past half year."
"The return to Vitesse feels at this moment as the right step," says Diks, who have until mid-2021 is fixed in Italy. "Vitesse feels like coming home where my heart is. I never forget where I come from."
Vitesse took earlier this season all of Ricky van Wolfswinkel, Adnane Tighadouini and Alexander Büttner back to Arnhem.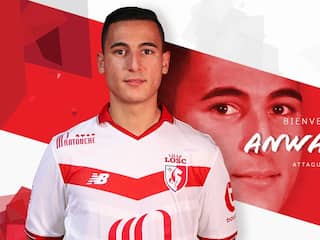 See also:
Overview: The major transfers on Deadline Day
Marengo
Ludcinio Marengo is by ADO Den Haag until the end of this season to be rented to Go Ahead Eagles. Randy Wolters moves in the opposite direction. He is by the Deventenaren until the end of this year on loan to ADO.
Marengo came in the summer of 2015 for ADO, that he took over FC Volendam. The 25-year-old vleugelaanvaller played a half-season to 37 matches played, in which he twice scored.
Go Ahead took Wolters in mid-2015 on VVV-Venlo. The 26-year-old winger made five goals in 49 matches played for the River club. Previously he was under contract with FC Utrecht, FC Emmen and FC Den Bosch.