Twelve dead in raid on capital of Yemen
With a new air raid on the capital Sanaa of Yemen on Friday, twelve people were killed, including six children, notify rescue workers.
The bombing took place in the district Faj Attan, on the outskirts of the city. It also became two buildings severely damaged.
Witnesses told against Reuters news agency that the fighters probably of the Saudi Arabia-led international coalition were already a 2.5-year campaign against Houthi rebels. During the war in the country are already ten thousand people perished.
The Houthi's and their ally, former president Ali Abdullah Saleh, to check a large part of the north in the country, including Sanaa. The internationally recognized government of Yemen is supported by the international coalition and is located in the south.
Cholera
In Yemen in the last three months by a cholera epidemic in 1900 people died and an estimated 400,000 people became infected, reported the world health organization (WHO) at the end of July.
The human rights office of the United Nations on Friday asked for an independent investigation into air strikes by the coalition in a hotel in Sanaa last Wednesday. It came to more than thirty people were killed.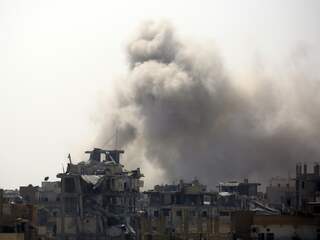 See also:
"More than thirty dead by air raid in the capital city of Yemen'