Turnout of elections in Iran is about 70 percent
Photo: AFP
More than forty million Iranians have Friday cast their vote for a new president. Reports that the Iranian ministry of the Interior.
It would mean that the turnout at about 70 percent. In Iran were approximately 56 million people called to vote. The election results within 24 hours expected.
The battle for the presidency is mainly between the current president Hassan Rohani (68) and an 'ultra' among the powerful clerics, Ebrahim Raisi (56).
A candidate needs more than 50 percent of the votes in this first round for the president to be elected. If none of the candidates that percentage gets, follows about a week a second round.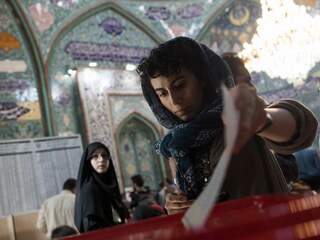 See also:
Polling stations in Iran closing hours later due to high turnout
Elections In Iran
The ballot boxes in Iran Friday morning at 8.00 am (local time) opened for the presidential election.
© ANP
Rohani is going for his second term.
© ANP
The fight goes this time between the moderate incumbent president Hassan Rohani and Ebrahim Raisi, the least known candidate, but also the one that is closest to the ayatollah.
© ANP
President Rohani brings his voice out.
© ANP
Share this photo via:
Back to slideshow
Polling station
Friday there were long queues in front of polling stations. The opening hours were, therefore, with more than five hours extended to 23: 30 hours local time.
After the official closure should the voters still stood in line, still cast their vote.