Turkish newspaper appears blank in protest against arrest of workers
Photo: AFP
A Turkish newspaper is Saturday, with blank pages have appeared, protesting against the arrest of two employees.
It goes to the newspaper Sözcü that in the whole of Turkey appears with a circulation of approximately 270 thousand copies.
Under the title "may 19 special edition for freedom of the press," lay the sheet with 19 white pages in the shelves.
Sözcü is the third newspaper in the size of the Turkey. The two employees were detained because they as supporters of the Gulen movement, the crimes would have been committed. Against the publisher Burak Akbay is also an arrest warrant issued. He would stay abroad.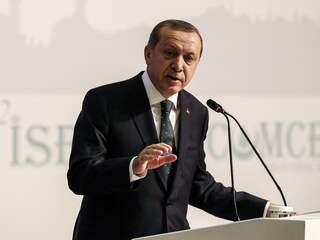 See also:
Erdogan pulls reins further after results of referendum