in the vicinity

Video
Trump on whether he'll shoot Rosenstein: We will see
President Trump says he would "certainly prefer to fire the Deputy Attorney General Rod Rosenstein says he can delay your meeting.
President Trump said on Wednesday he would "certainly prefer to" fire the Deputy Attorney General Rod Rosenstein, and, in view of the delay of their planned meeting on Thursday in Washington, DC
Lecture at a rare press conference in New York, Trump said he could second the push-back of the much-anticipated meeting with the Ministry of justice-in-command. This meeting was scheduled after The New York Times reported that Rosenstein allegedly suggested to wear a "wire", while with trump.
Rosenstein also allegedly suggested to call the removal of the 25 Amendment to, the President of the office in the last year.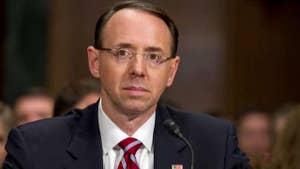 Video
Growing demands for rod Rosenstein, to testify before Congress
"I talk with [Rosenstein], we had a good conversation," Trump told reporters. "He said that he didn't say it. He said he didn't believe it. He said he has a lot of respect for me. He is very nice, and we'll see."
A media report on Monday showed the embattled official had already left, as the No. 2 justice official, while the sources of Fox News and other outlets said authorities Rosenstein was expected on the way to the White house to be fired.
The White house later announced that Rosenstein would be meeting with Trump on Thursday, when he will be home from the General Assembly of the United Nations in New York.
CNN REPORTER JIM ACOSTA ASKS TO CALL TRUMP, THE 'REPORTER' AT THE NEW YORK PRESS CONFERENCE
On Wednesday, Trump said he was moving could be the meeting, because he focuses on the Senate Judiciary Committee hearing, also on Thursday, Supreme Court nominee Brett Kavanaugh and Dr. Christine Blasey Ford, a woman who accused him of sexual assault.
"I don't want to do anything, said to him in the way of this very important Supreme Court pick" Trump. "I don't want to do anything, the conflict with is."
Trump, referencing Rosenstein, the authority, the supervision of special counsel Robert Mueller's investigation, said that his "preference would be to keep him, let him finish."
Fox News' Brooke Singman and The Associated Press contributed to this report.
Nicole Darrah cover breaking and trending news for FoxNews.com. You can follow her on Twitter @nicoledarrah.