in the vicinity

Video
Trump: journalists should be free from fear of attack
President promises support to families of the victims of the capital-Gazette newsroom shoot, says the administration will do everything in their power to reduce violent crime and the protection of innocent life.
President Trump on Tuesday ordered American flags to the victims of last week's lowered to honor a rampage at a Maryland newspaper, according to the mayor of Annapolis, the President claimed first, once rejected, a request to do so.
"Our Nation shares the grief of the victims of the shooting in the capital-Gazette Newspapers, Annapolis, Maryland," Trump said in a proclamation released by the White house. "Americans across the country are called United in God, with the victims and to help and comfort for your family and friends."
On Monday, Annapolis mayor Gavin Buckley of the Baltimore Sun said that Trump had refused his requests to lower flags.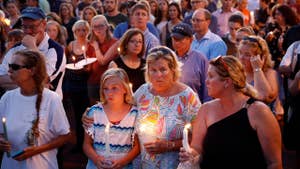 Video
Vigil shooting, instead of for the fallen in the capital Gazette
"Of course I'm disappointed, you know? … Is there a cut-off frequency for the tragedy?" Buckley told the newspaper. "It was an attack on the press. It was an attack on freedom of speech. It is just as important as any other tragedy."
CAPITAL GAZETTE MURDER SUSPECT WROTE OF "KILL EVERY PERSON A GIFT,' AND LETTERS, POLICE SAY
The circumstances of Buckley's request are not clear. In an interview with journalists on Tuesday morning, White House Press Secretary Sarah Sanders, Trump said reduced "immediately", ordered the flags, when he learned that Buckley's request.
Later Tuesday, Trump ordered that the flag of the United States "is at half-mast flag at the White house and on all public buildings and grounds, at all military posts and naval stations, and on all of the Navy of the Federal government in the District of Columbia and in the United States and its territories and possessions vessels until sunset."
The flag is also lowered ordered abroad, at embassies, legations, consulates and other facilities, the White house said.
Five people were Thursday killed in the attack.
"Journalists, like all Americans, should be free of the fear, violently attacked while doing their job," Trump said last week.
Fox News' Kristin Brown contributed to this report.
Alex Pappas is a political reporter at FoxNews.com. Follow him on Twitter at @Alex Pappas.