nearvideo trump meets the world's leader in France for G7 summit
The gathering of world leaders, plan to discuss a variety of topics, ranging from global economy to climate change.
The United States and the United Kingdom prepare for you a "very big trade deal" once the UK has the European Union, President Trump said on Sunday morning in France, where Trump and other Church leaders gathered for the G-7 summit.
The President also praised the new British Prime Minister Boris Johnson on Escape during their working Breakfast on the second day of the summit.
"He needs no advice. He is said to be the right man for the job" Trump.
The President appeared on the light of former Prime Minister Theresa May – he had often criticized– by adding that Johnson is "a new man."
TRUMP TALKS UP 'SPECIAL RELATIONSHIP' WITH A MACRON, TO BEAT HOURS AFTER THE THREAT OF DUTIES ON FRENCH WINE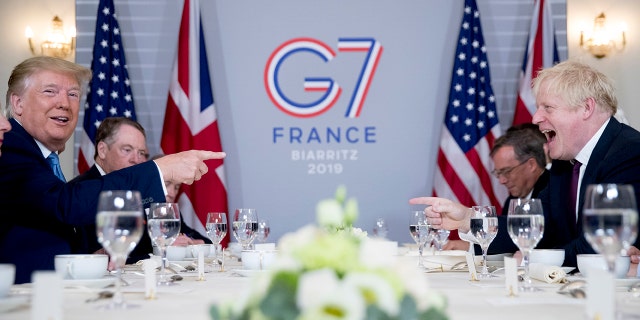 U.S. President Donald Trump, left, and Prime Minister of great Britain, Boris Johnson attend a working Breakfast in the Hotel du Palais on the sidelines of the G-7 summit in Biarritz, France, Sunday, Aug. 25, 2019. (Associated Press)
Johnson, meanwhile, congratulated Trump on his handling of the US economy, but added, "only register a weak, sheep-patience mind you our view on the trade war, we are in favor of trade, the peace of the whole."
Johnson had British told reporters before the meeting that he would ask, not trump, to escalate, and the U.S. balance of trade hostilities with China.
Sunday's session was the first since Johnson succeeded in may as Prime Minister in July.
CLICK HERE TO DOWNLOAD THE FOX NEWS APP
Earlier on Sunday, Trump told reporters: "we are always good, especially now with China," despite a new round of tariffs on Chinese goods Friday and said that the U.S. company "to leave this" China ordered.
In retaliation, China has to impose promised, the new rates to $75 billion in U.S. goods.
The Associated Press contributed to this report.