Dakar Rally
Trucker De Rooy gets the leadership it has lost dagzege Van den Brink in Dakar
Photo: ProShots
Trucker Gerard de Rooy on Tuesday, the leadership lost in the Dakar Rally. The winner of last year ended in the shortened eighth stage on seven minutes and thirteen seconds of the winner, Martin van den Brink.
The Russian, Dmitry Sotnikov is the new leader in the trucks. The Rus began Tuesday with a backlog of more than two minutes to De Rooy and was in the eighth stage in his Kamaz more than four minutes faster than the Dutchman.
De Rooy is now third in the standings, at 2.20 mins of Sotnikov. The Russian Eduard Nikolaev finished on Tuesday when third at 42 seconds of Van den Brink and is the new number two of the general classification, two minutes from his countryman.
Van den Brink, who in the rankings no significant role, recorded his second victory of this rally. Previously, the Dutchman was the fastest in the second stage.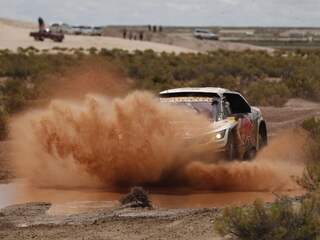 See also:
Eighth stage of Dakar Rally shortened because of rainfall
Weather conditions
The truckers did in the eighth stage, but 174 kilometres. The trial of the Bolivian Uyuni to the Argentine Salta was actually 490 miles, but the organization decided to start the stage because of the poor weather conditions to shorten.
Heavy rainfall over Bolivia was a part of the trail impassable. The rally in South America this year is ravaged by a storm. The stage of Saturday was already cancelled.
Engines
The Spaniard Joan Barreda won his second stage in the engines. The Honda rider put in two chopped ride in 4.28.21 hours; 3.51 minute faster than Matthias Walkner (KTM) from Austria. Barreda won last week also the third stage of the Dakar Rally.
Sam Sunderland came in third at 3.54 of Barreda. The British reinforced this lead in the general classification. The KTM rider has 20.58 minutes ahead of the Chilean Husqvarna rider Pablo Quintanilla and 28.49 minutes on the Yamaha-riding Frenchman Adrien Van Beveren.
The Dakar Rally ends Saturday in the Argentine capital of Buenos Aires.