Toornstra see goals against FC Groningen not as revenge
Photo: ProShots
Jens Toornstra will see his two goals Saturday night against FC Groningen (2-0 win) not as revenge, after he last week against FC Twente passed by trainer Giovanni van Bronckhorst.
"I'm not living with revanchegevoelens, so I attach no more value to these two goals than I would normally do," said Toornstra after the end for the camera of FOX Sports. "But of course it is good that I am important for the team."
The 27-year-old Toornstra, who prefer to got above Dirk Kuijt, made peace in reference to Steven Berghuis the 1-0, but especially the assist from Jan-Arie van der Heijden in the 2-0 in the second half was beautiful. The central defender tapped the ball behind his standing leg along to Toornstra.
"Jan-Arie prepared him for that," smiled Toornstra with a sense of understatement. "I already knew that Jan-Arie is very useful in the small space. He explained to him very nicely down. The result is also beautiful. We are a little bit closer. Tomorrow, we can calmly look at what the competition is doing."
Feyenoord-FC Groningen
© ANP
© ProShots
© ANP
© ANP
Share this photo via:
Back to slideshow
Van Bronckhorst
Van Bronckhorst said after that he was happy for Toornstra, although he did not too deep to elaborate on his luxury. "It is good that Jens scores, but the most important thing is that we as a team have won", said the trainer, who realizes that he's next week again for a difficult choice.
Hekkensluiter ADO Den Haag is than the opponent, and you may need Van Bronckhorst captain Kuijt then pass out.
"They make it very difficult for me, but I am only but happy to. I see fun in the team. We score, win, and get no goal against. That gives confidence for the coming weeks."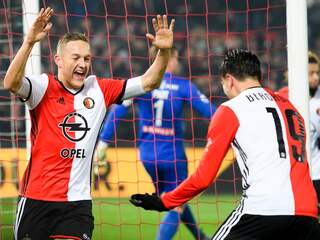 See also:
Leading the Team book against FC Groningen eighth Eredivisiezege in a row
View status, results, and the program in the Eredivisie