Football
Toornstra prefers to play in aanvallender role at Feyenoord
Photo: ProShots
Jens Toornstra filled Sunday in the won the away game against Roda JC (0-2), the position of Karim El Ahmadi, with Morocco at the Africa Cup of active. The midfielder admitted prefer aanvallender to play.
"I needed something more conservative play than I normally do. That was to get used to, because I naturally urge forward. Now I had to restrain myself. Of course play I would rather be in a aanvallender role, but really I'm still mostly in the basic", said the 27-year-old Feyenoorder.
Toornstra think an explanation of why the team is so often effective is in the final. Also against Roda JC decided Feyenoord the match in the last 25 minutes through goals from Dirk Kuijt and Eljero Elia. "We are patiently remained, because we now know that we can always score."
"We are quite fit and able until the last minute to give it their all, which opponents often can't. With a 2-0 win of Roda JC is fine, though it was not superwedstrijd."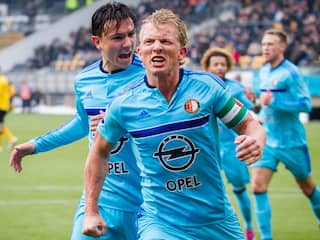 See also:
The team opens the second half of the season with a difficult profit on Roda JC
Get used
Captain Dirk Kuijt, who in the 69th minute for the opening goal made, was especially relieved with the victory. "The first match after the winter break is always a little getting used to," said Kuijt afterwards at FOX Sports. "It is logical that the level is not immediately as high as for the winter break. But the most important thing is that you win."
"Roda JC is a team that is well organized. They have the PSV and Ajax this season, also difficult to made", was the captain of Feyenoord on the equal playing of the Task previously this season against the other title contenders.
 
Roda JC-Feyenoord in the picture
Dirk Kuijt was in the 69th minute, responsible for the 0-1.
© ProShots
The captain of the Team curled the ball in reference to Nicolai Jörgensen from there in the intersection.
© ProShots
Kuijt cheers for the box in his characteristic way.
© ProShots
Roda JC midfielder Tom van Hyfte was in the injury time of the first half of the bar.
© ProShots
Share this photo via:
Back to slideshow
View status, results, and the program in the Eredivisie