The Young is that PSV as a team has failed' against Osijek
Photo: ProShots
Luuk de Jong and Marco van Ginkel accepted that PSV Thursday against Osijek lta performed. The Croats won with 0-1 in Eindhoven in the third qualifying round of the Europa League.
"Today We failed as a team," concluded The Young after against FOX Sports. "These teams will play defensive and hope for that one small shot at glory. That they have caught today. We played a lot on their half, but urged that we not in figures."
Van Ginkel, De Jong was succeeded as captain of PSV, was his team was still good start. "We kept them initially reasonable under pressure, but then we went into their tempo."
"We held the field at large, played a sloppy and slow pace", continued the midfielder. "Then you get as a competition. We had this opponent would have to play, that we have not done well."
Van Ginkel found it difficult to explain where the mediocre game of PSV really. "It's a shame that we the pace is not raised, it is difficult to explain how that came about. At least We have something."
PSV lost to Osijek
PSV last Thursday, surprisingly lost to Osijek.
© ANP
Van Ginkel was wearing for the first aanvoerdersband.
© ANP
De Jong was just the kick-off.
© ANP
The Croatians were ahead by a entire penalty of Barisic.
© ANP
In particular, Bergwijn got opportunities, but failed.
© ANP
Share this photo via:
Back to slideshow
Bergwijn
PSV was really only dangerous with shots from distance. Only in the final stage were the Locals still set up, with a shot of Steven Bergwijn on the pole. The Croats were however, already 0-1 for a used penalty of Borna Barisic.
"We have then especially tried with long balls in the sixteen', saw Van Ginkel. "Unfortunately, we are 0-1 behind, and they have a uitgoal. We do however really have to."
The return is next Thursday in Croatia, where PSV is at least two times, need to score to reach the final qualifying round to the second European cup.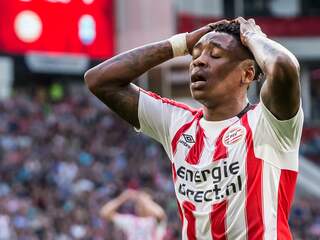 See also:
PSV blameert in the qualifying round Europa League thuisnederlaag