Daniele De Rossi is demanding a compensation from the Italian newspaper La Repubblica. According to the 35-year-old midfielder's right, there's nothing of a reconstruction that, the newspaper has made about the problems with AS Roma during last season.
"I want my disapproval to comment on the false reconstruction that was outlined is," writes De Rossi Friday in an open letter to the Italian news agency ANSA. "It is ridiculous and shameless to write that I together with other pros, who always have for the club, so have to behave."
In the earlier this week published article is written that key players in Roma at the end of last year have tried to keep the former coach Eusebio Di Francesco and director Francesco Totti. Among others, De Rossi could be involved.
"It is not the first time that people my friendship with Totti trying to damage," says De Rossi. "Against them, I say: try something better…"
"This article is even weirder when you consider that Roma me a few days ago, has made an offer to director to get started. I felt honored, but I got it for known reasons, is rejected."
Daniele De Rossi (centre) together with Francesco Totti (right) during his farewell of AS Roma. (Photo: Pro Shots)
De Rossi took last Sunday, said goodbye to Roma
De Rossi played last Sunday, his last game for AS Roma. The 117-fold international came less than eighteen years for the club, that his expiring contract is not extended.
"I feel that my image has been severely damaged, so I got my lawyers instructed to seek damages," says Rossi. "That amount, I will fully donate to a good cause."
Earlier on Friday offered AS Roma owner James Pallotta in an open letter, apologize to the fans of the club for the moderate performance in the last season.
Roma fired in march trainer Francesco Di Eusebio. Claudio Ranieri took over, but he came with his team no further than the sixth place in the Serie A. This will force the Romans to settle the preliminaries of the Europa League.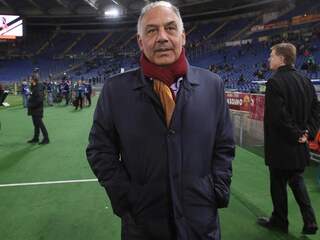 See also:
AS Roma-owner in open letter highly critical of 'catastrophic' season