Matthijs de ligt is proud of the way Ajax on Sunday in the top match against PSV the victory out of the fire". The Locals played a long time with ten men, but won with 3-1.
"After the break we have fought like lions," concluded the captain after the exciting topper at FOX Sports. "We defended well and threw ourselves in front of the ball. I have enjoyed it. It is, perhaps, not the Ajax way, but I am very happy with the three points."
Ajax stood at rest with 1-0, but after a red card for Noussair Mazraoui and at the end of Luuk de Jong seemed to be the game to get the Locals through the fingers to slip.
With a man less pulled the home team to the longest end, by a used penalty from Dusan Tadic and a goal in injury time from David Neres. Behind leader PSV is now two points.
"After that red card and the 1-1 we were shocked a while, but perhaps gave us that it is the final push," said Lies, who also took the audience a big part in the victory. "We know that the public have a very big support for us. They boosted us up to the hole."
221
De Jong: 'Disappointed, but we are confident'
At Hag thrilled with straatvoetballer' Neres
Also trainer Erik ten Hag was speaking about the resilience his team had shown after the red card for Mazraoui, that after an hour had inrukken after he with a high leg to the face of Angeliño had hit.
"The red card was rightly", presented At the Hag. "And then it was also immediately the 1-1. But we have our back court. I am particularly pleased with the way we did."
An additional plume gave the trainer on Neres. The Brazilian, who in injury time of the match in the lock, threw, was a constant plague for the defense of PSV.
"He is a real straatvoetballer and almost elusive to the opponent. That kind of players do you need in the front, just like Tadic and Ziyech, who is also individually which can. But also as a collective we have a huge resilience."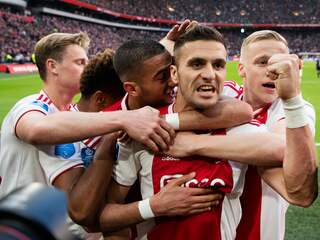 See also:
Dozen Ajax wins leader PSV and reduces the gap to two points