Football
The Farmer provides Inter-fans excuses after painful defeat
Frank de Boer had Thursday with Internazionale, again, a disappointment to swallow a painful thuisnederlaag against the Israeli Hapoel Beer Sheva (0-2). The Dutch coach showed after the game understanding for the fans, who are players uitfloten.
"I want to first say that I my apologies and offers to the supporters to the stadium are come," said De Boer at the press conference. "They come to the stadium to Inter to see win."
The team from Milan with four points from three matches against laagvliegers not a good start to the league and could be the negative spiral, also not reverse against Hapoel Beer-Sheva in the Europa League. The club from Israel won by two matches after the rest.
"In the first half we had enough chances to take the score to open", thought The Farmer. "Then they score from a default situation, but I was still confident that we have the contest could turn. I can not understand the players, the head left hanging after the first tegengoal."
"You can always backlog, but I'm angry because it now happens too often. I don't think that we fully started to hit, as against Hapoel Beer Sheva was the case."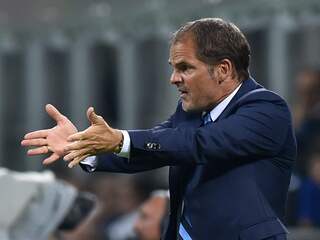 See also:
The Farmer with Inter back in Europe League, Letschert win with Sassuolo
Sport newspapers
The Italian sport newspapers pick up Friday tremendously to The Farmer and Inter.
"Inter, don't you?", the headline in La Gazzetta dello Sport. "Farmer humiliated by Israelis", you can read on the front page of Corriere dello Sport. Tuttosport sees Inter under The Jack slipping. "The Farmer sinks", reads the headline on the front page.
In some Italian media have already speculated on an early departure of the Dutch coach, who until early August was appointed in Milan. Sunday, wait for the major confrontation with a champion Juventus in the Serie A
"If we focus, then we can do well against Juventus", said The Farmer. "We have a chance."
View the results in the Europa League