Some recipes are already járen old and tastes perhaps precisely because of the nostalgia as well. NU.nl asks ordinary people to special recipes from their family. This week tells Alice van Kempen (52) about the waffles of her grandmother.
Van Kempen helped, as a little girl and her father on new year's eve with waffles baking in the barn. "Well yes, help, I helped mainly with eat and watch," she says. "The first two failed as always, so that was candy." The recipe for the waffles came from the mother of her mother, which she also baked around the turn of the year.
When Van Kempen went to live together, she went looking for an old-fashioned waffle iron. "As soon as I had, I started baking. The many eggs make these waffles so good. I see there is not so much in other wafelrecepten. Belgian waffles are hard. These are as you take them out of the iron gets quite as hard, but then again nice and soft."
"Now I remember, I get a similar sentence to make them."
Alice van Kempen
Of with her grandmother until last year: the waffles are always eaten with a layer of butter and sugar. "I get the same sense as I think of them. I make them only with new year's eve. Weird actually, because you can take them the whole year to eat, they are so nice."
Recipe for waffles
For approximately twenty waffles
Preparation time: hours and ten minutes
Ingredients
500 grams self-raising flour
7 eggs
pinch of salt
2 packets of vanilla sugar
1 tablespoon caster sugar
200 grams of butter
1 teaspoon cinnamon
milk
water
Method of preparation
Add the flour, the eggs, the salt and the sugar together in a bowl. Put the butter there to melt and slightly cooled down. Then add milk and water, until the batter is well. Do this by feel; it should not be too thin, but liquid enough to easily make them on the waffle iron to be able to distribute.
The waffles can hot and cold be eaten. Delicious with butter and sugar.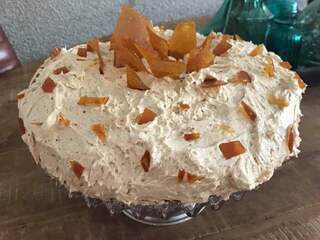 See also:
The family recipe: 'Children want grandma's mokkataart on their birthday'
Call
Do you have a special family recipe that you want to tell? Leave a comment under this post.