From left to right, top row: Brayan Oliver Melchor, Alberto Rafael Barrera, Miguel Quintanilla-Cardenas, Zepeda Abner Posos. From left to right, bottom row: Javier Leobardo Olvera-Ramirez, Raul Alberto Rangel-Rivera, and Jorge Angel Rodriguez Mejia
(McAllen Police)
Seven suspects who have been arrested in connection with an attempted robbery at a jewelry store in Texas at the weekend have been identified as Mexican nationals, who are in the U.S. illegally.
The U. S. Customs and Border Protection (CBP) has not been determined when the defendants came and how long they've been here, Fox News has learned, but that is something that they are working to determine forward.
After the suspects in their sights, they will be transferred to CBP, so that they can process their immigration and criminal history accordingly.
The men were indicted in court on Monday afternoon after they allegedly tried to rob the store at La Plaza Mall in McAllen on Saturday. Mallgoers in the first instance incorrectly interpreted their breaking of the glass cases,, sparking a panic in the whole building.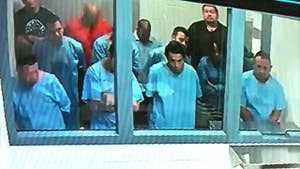 Video
Men accused of trying to rob a Texas jeweler indicted
Zepeda Abner Posos, 24; Alberto Rafael Barrera, 32; Brayan Oliver Melchor, 23; and Javier Leobardo Olvera-Ramirez, 22, each charged with aggravated theft and received a $200,000 bond, according to KRGV.
Jorge Angel Rodriguez Mejia, 28; Miguel Quintanilla-Cardenas, 26; and Raul Alberto Rangel-Rivera, 43, were also charged.
The men, five of whom allegedly gave the police fake names, each face a surcharge with a $10,000 bond.
Fox News' Madeleine Rivera contributed to this report.
Nicole Darrah cover breaking and trending news for FoxNews.com. Follow her on Twitter @nicoledarrah.