Substituted Ziyech miss penalty and suffer costly loss of points with Morocco
Hakim Ziyech has themselves Tuesday not a good service. The Moroccan playmaker missed a penalty kick in the world cup qualifier against Mali that with a 0-0 gelijkgespeeld was in Bamako.
By the slip somehow failed the "Lions of the Atlas', the lead in group C of the African kwalificatiezone to take over leading the Ivory coast. Morocco collected six points in four matches, one less than the 'Orange Oliftanten'.
Ziyech was in the 72nd minute with a great opportunity to get three points to secure, but he failed from eleven metres in the eye with the Malian keeper Djigui Diarra. A minute later, had following his departure to chelsea from coach Hervé Renard making way for Oussama Tannane.
Friday knew the born Drontenaar a successful comeback in the shirt of the national team. The 24-year-old lefty was a two-time accurate in the 6-0 win at home against Mali.
It was his first match for Morocco since October of last year. Since then, Ziyech not called up by Renard, who also is not recorded in his selection for the Africa Cup. The midfielder had, initially, no longer available, but after a expiatory conversation with the coach he returned.
In Morocco did next Ziyech and Tannane (Las Palmas), the Dutch born Karim El Ahmadi (Feyenoord), Nordin Amrabat (Leganes) and Mbark Boussoufa (Al-Jazira). FC Groningen-striker Mimoun Mahi remained on the bench at the Stade du 26 Mars.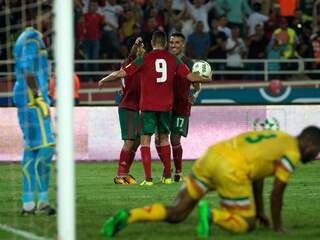 See also:
Ziyech and Mahi contribute to the victory of Morocco in world cup qualification