A student who is a 'Trump card' flag was attacked in Minnesota during the National School Walkout Day.
(Getty/Reuters)
A student at an American high school was attacked by a crowd of students, after he wore a pro-Trump flag during the National School Walkout on Wednesday, police said.
The attack took place while the students at Southwest High School were supposed to be observing a moment of silence in remembrance of the 17 students and teachers who died in the Park, Fla. shoot the last month, WCCO reported.
The police said that the student was waving a flag in support of President Trump when he was attacked by at least eight classmates. The mob force took the "Trumpet" flag of the student, who suffered minor injuries, and damaged a camera that he wore.
A school resource officer was able to stop the attack. There are no arrests or disciplinary action taken against the students involved if the police continue to investigate what happened.
A student who is a 'Trump card' flag was attacked to the opposite side of the street from Southwest High School in Minneapolis during the National School Walkout Day.
(Google Street View)
Minneapolis Public Schools officials told Fox News in a long statement that, due to the legislation of a member state, they are "prohibited for the sharing of information of the short battle that took place on 14 March on the other side of the street and off school property."
Last week, MPS-Director Ed Graff sent a letter to families about creating "a space for students" during the walkout, emphasize that they must not leave school property.
Graff wrote it is "not possible" to "ensure student safety" as students "leaving school grounds," adding the school "will not discipline students for the act of protesting as long as the protest remains peaceful."
Because the attack took place just across the street from the school and technically off campus, it remains unclear what action the school will, if applicable.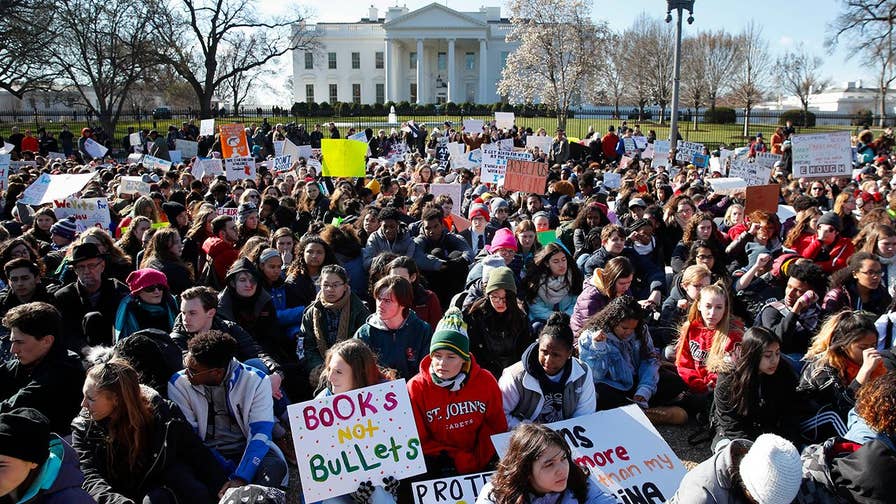 "The MPS does not condone the fighting or disrespectful behavior," said MPS spokesman Dirk Tedmon. "When it happens, we follow the same behavior and safety guidelines for all students involved."
Tedmon said that students have the right to express their opinion, even if not everyone agrees.
'FORCED' A STUDENT WALKOUT IN CHICAGO IS A 'POLITICAL INDOCTRINATION': GOP CHAIR
"MPS diversity is one of its greatest strengths, and helps students grow into well-rounded, global citizens," he said. "It is important to maintain a safe, positive learning environment for every Minneapolis Public Schools student in each of the district schools, and we are committed to do that."
Caleb Parke is an associate editor for FoxNews.com. You can follow him on Twitter @calebparke