Cyril Ramaphosa is Saturday sworn in as president of South Africa. That happened for the eyes of some 40,000 spectators at a rugby stadium in the capital, Pretoria.
The party African National Congress (ANC), Ramaphosa took to the elections of may 8, a majority of 57,51 per cent.
The 66-year-old Ramaphosa was in February of last year president of South Africa after Jacob Zuma under pressure the ANC after nine years in power was stepped down. He is now an official term of five years.
The ANC has, since the victory of Nelson Mandela in 1994 on an ongoing basis with the power.
The party of the famous anti-apartheid activist was the last quarter-century country-never below the threshold of 60 percent of the votes failed. This is the last election so just what has happened. Voters grumble about corruption scandals and high unemployment.
The ANC of Ramaphosa secured a comfortable victory to secure, but was the lowest share of votes since the end of Apartheid in the early nineties. (Photo: AFP)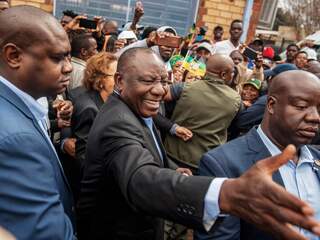 See also:
Ruling ANC wins elections in South Africa
Each morning we quickly know what you night have missed? And around the lunch an update of the main news? Subscribe to our daily newsletter!