Dafne Schippers is Wednesday at indoorwedstrijden in Düsseldorf as the third ended on the 60 metres. The Utrecht arrived in the German city to a time of 7,19 seconds.
With that, the 26-year-old Skippers, one hundredth of a second slower than her best time this season. They had to côte d'ivoire Marie-Josée Ta Lou, who 7,02 the fastest time of the year, and the Polish Ewa Swoboda (7,10).
Jamile Samuel came in 7,24 seconds to be the sixth over the finish line and dived thus just below the EC limit (7,25). She did that three days too late, but perhaps it is the Atletiekunie still designated for a spot in the selection.
For Naomi Sedney, the third Dutch who took action in Düsseldorf, fell to the canvas in the semi-finals. She walked with 7,56 the slowest time.
For Skippers, two-time world champion in the 200 meters, was the race in Düsseldorf, her last race prior to the european CHAMPIONSHIPS indoor. They will run the 60 metres at the tournament from 1 to 3 march in Glasgow.
Final #60m with Dafne Schippers and Jamile Samuel
🎥 Niels Green
Avatar
AuteurTopatletiekLiveMoment of plaatsen18:56 – 20 February 2019
Skippers in the 2015 European champion at 60 metres
Last weekend was Skippers for the ninth time Dutch champion on the 60 meters. In Apeldoorn, the netherlands sprinted in 7,18 seconds to the first place. In the NK indoor was still unclear as to whether they are on the EK wanted to join.
In 2015, it was Skippers European champion in the 60 meters. Two years ago she made the EK indoor to pass.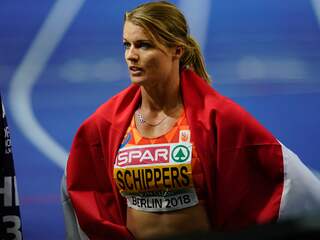 See also:
Schippers conducts small Dutch atletiekploeg EK indoor to