Skippers after a hectic season to rest
To the relief of Dafne Schippers is the sprintseizoen it. The Utrecht world champion lost Friday of the Jamaican Elaine Thompson in the 200 metres at the Memorial van Damme in Brussels, the final of the Diamond League.
"My start was okay, but I could not doorversnellen because I had my hamstring. I've had some pains the last week, so I have some more needed rest," she said in retrospect against the NIS.
Skippers klokte 10,97 seconds, while olympic champion Thompson a time of later 10.72 seconds ran, and thus the so called Diamond Race in the 100 metres in the awards. "Thompson has been dominant in the 100 metres", gave Skippers after.
The Utrecht is on vacation. "I'm overloaded. A number of things want to no more. I'm huge at the border. I needed to rest, especially for my body. That I notice now."
Schippers, who last week was honored in Zurich as the winner of the Diamond Race in the 200m, going on a vacation to Asia. There, she wants to relax and prepare for the new season. "It was an intense year."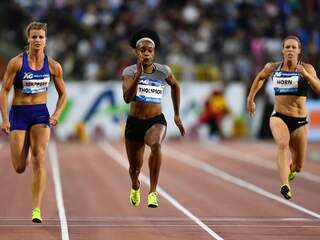 See also:
Skippers lose in Brussels, too, of Thompson 100 metres
Races
Schippers ran this season, relatively a lot of races, something that they next year also plan. "It must be physical to be wise, but I definitely want all matches walk. That dodge I don't. On vacation I have to just pause and calmly think about it. Then there is certainly a good plan for next season."
The world champion looks back at the period after the Olympic Games in Rio de Janeiro, where they at the hands of Thompson pleasure to take silver in the 200 metres. "I have good races. I now want a good winter run and hope back stronger, both physically and with dealing with everything around me."