Sixteen wounded cases with riots in Jerusalem
Photo: Israeli police
Sixteen Palestinians on Tuesday in Jerusalem were injured during clashes with the police. Although Israel's controversial metal detectors at the entrance of the temple mount has been removed, it is still unsettled in the area.
Three people were seriously injured, reported the Palestinian Red crescent on Wednesday.
Just as in the last few days, thousands of muslims Tuesday prayers in the streets of the old city. After the evening prayer was unrest and came to new riots and clashes with the Israeli police. Several Palestinian representatives called Tuesday night in Ramallah to an escalation of the protests.
Israel after an attack on police officers on July 14, new security measures for muslim worshippers entered the islamic Lofty Sanctuary or the temple mount. The Palestinians were protesting against it because they saw it as an attempt by Israel to have more control over the sanctuary.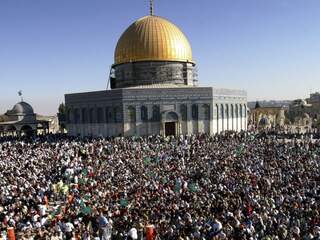 See also:
This is what we know about the situation at the temple mount in Jerusalem