In the first half of the Eredivisie-season sixteen arbitration errors made after interference from the VAR, who last summer made its appearance. The number of errors is due to the videoscheidsrechter or 70 per cent.
Of the sixteen errors were seven times undeserved, whether or not a penalty is awarded, eight times was incorrectly or not red is drawn, and the one time it was wrongly a goal is approved, according to Thursday figures from the KNVB.
The goal concerns the 1-3 of Ajax midfielder Frenkie de Jong, in the away game on 23 december against FC Utrecht. Referee Dennis Higler ruled it wrongly that Ajax attacker Kasper Dolberg not visibly offside.
One of the wrong decisions in a supposed red card in the match VVV-Venlo against FC Groningen (0-0) on 9 december.
Referee Serdar Gözübüyük pulled in Venlo red for VVV-defender Jerold Promes after a hard violation on Ritsu Doan, but put that card – wrongly, as doth the KNVB to be in yellow after he on the advice of the VAR, the images had seen.
Also Ajax captain Matthijs de ligt had a weekend red need to get. He took in the 1-4 win away game against PEC Zwolle, broke through Kingsley Ehizibue down, but it remained at yellow of an arbitrator Jochem Kamphuis.
Yellow card Kali is not defined as error
"The sixteen decisions by our qualified and really obvious errors," says Dick van Egmond, coordinator scheidsrechterszaken of the KNVB. "But not all decisions, that to a lot of commotion have routed are counted as wrong."
The hard violation of NAC midfielder Anaour Kali on november 3 against Heracles Almelo – yellow to a result – is one of those decisions. Also within the KNVB led to the absence of red to discussion.
"Because of the hard earnings of Kali, we have a preference for a red card," says Van Egmond.
"But we also saw that Kali slipped, and his opponent is not hard kicked. It was therefore not clear enough that the VAR had to intervene, although he had a preference for a red card. We define it not as an error, though, we understand that food is for discussion."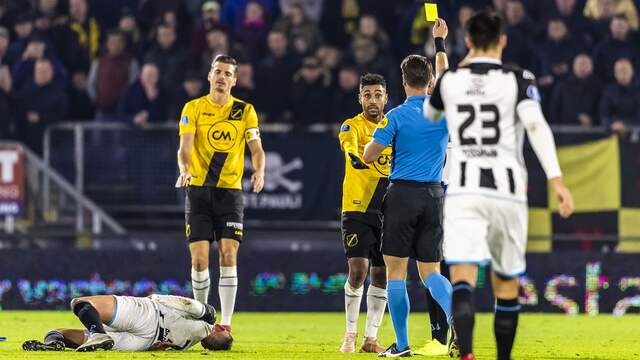 Number of errors 70 per cent
Van Egmond also emphasised that the VAR of the discussion about arbitration decisions are never completely will take away, but he looks pretty happy back on the first months of the VAR in the Premier league.
"The number of clear errors in the Premier league is 70 per cent. There are sixteen, while there are about fifty have prevent. That is absolutely a step in the right direction."
The expectation of Van Egmond is that the number of errors in the Premier league to be even smaller, though he thinks it is a bit early to be on the basis of a half-Eredivisie-season expectations.
"Flawless is never, never, because it remains the interpretation of the referee and the VAR under the pressure of the circumstances. But I do think that the number of errors even less can be. Then, for example, the communication even better and there is still better use to be made of all available cameras. That process needs time."