close

Video
Veterans walk 1,000 miles to tell their story
Veterans walk 1,000 miles across America to raise awareness about the battle scars that can't be seen: mental illness
Cpl. Frankie Perez hit rock bottom in 2008 and tried to end his life. He Had spent the last 10 years of suffering in silence – battling post-traumatic stress disorder and a traumatic brain injury – and he saw no way out of the darkness.
"I was dead for more than 30 hours in the VA hospital," Perez told Fox News on Thursday. "And I'm back from the darkness and (now) I am willing to share with others, so that they know that no matter how dark your day might be, you can make it happen."
Perez, a native of San Juan, Puerto Rico who joined the Army in 2001 as a member of the Puerto Rico National Guard, was one of six veterans who completed a 1,000-mile walk across the country to raise awareness about the silent battles the influence of soldiers returning from the war.
"It's a dream (to do this). (If) of a veteran who has struggled with this condition for a while – since 2004 – it is amazing to see and be a part of the change in mental health services for veterans and their families," said Perez, who is the founder of the Post-Traumatic Art Foundation in Puerto Rico, with the therapy through art and music to other veterans in the community.
The six veterans – three from the United States and the United Kingdom ran 1,000 miles in the U.S. to raise awareness for mental health issues plaguing combat veterans.
(Walking with the Wounded)
"We have more than 150,000 veterans with a VA in Puerto Rico. We are not getting the support we should have, and that is something that I really focus on."
PARALYZED VETERAN ON 1,500 MILES OF HANDCYCLING JOURNEY TO RAISE AWARENESS ABOUT MENTAL HEALTH
The six veterans – three from the United States and the United Kingdom – a highlight of their heroic walk by the placing of a wreath by the Survivor Tree at the 9/11 Memorial in New York City on Thursday to make their way a few short blocks to the Queen Elizabeth II Memorial Garden.
The walk, which started on June 2 in Los Angeles, was organized by the british military charity Walking with the Wounded. The Walk of America expedition was inspired by the vision of UK Expedition Patron Prince Harry, the Duke of Sussex.
Their 3-month tour of the United States took them through parts of California, Texas, Colorado, Ohio, Wyoming, Tennessee, Illinois, Missouri, Georgia, Florida, south Carolina, the capital of the country, and Pennsylvania before finishing up in New York City.
Their journey took them to more than 10 cities in the entire country and places like Mount Rushmore and Yosemite National Park (pictured here).
(Walking with the Wounded)
Along the way they meet many of the veterans, who also shared their stories about the struggles that they face after returning from the battlefield.
"I was injured in 2006. I lost my right eye, I lost my partner (Then) and Jessie our driver and it was not until four years later, I was diagnosed with my small brain injury, PTSD and depression," U. S. Air Force Master sergeant Adele Loar, who also completed the incredible journey, told Fox News. "So, in all the time, I was the battle on my own."
105-YEAR-OLD NAVY VETERAN FINALLY GETS HIS COLLEGE DIPLOMA AFTER 83 YEARS
She said it took a long time to figure out why she never wanted to leave the house, and why she was crying the whole time – "I hated people who cried, and I was one of them," she recalled.
The six veterans at the World War II memorial in Kansas City.
(Walking with the Wounded)
"It was only two non-profit organizations has helped me to understand that it was OK that I survived, because for eight years I was angry that I lived," Loar said. "Every day I have sworn that if there was a God I would not wake up. (And now) to come back and the awareness that it is OK to seek help. We are losing too many of our friends."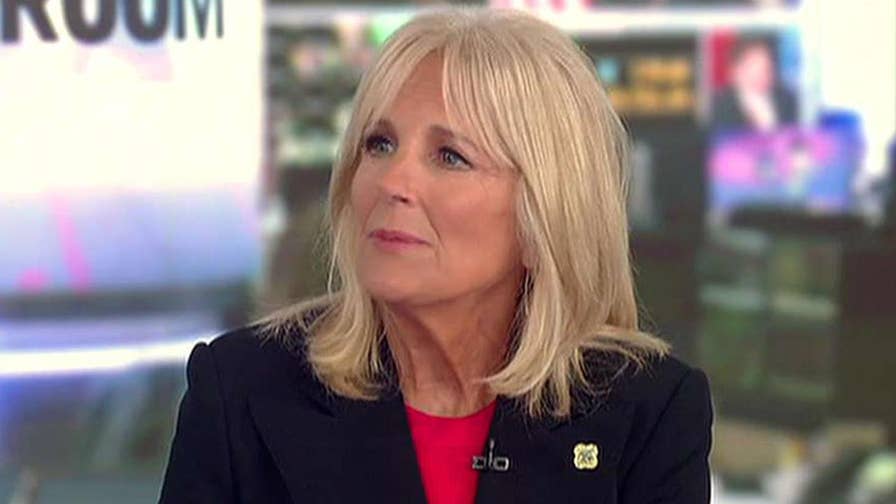 Loar, the only woman on the Walk of America expedition, said one of her missions during the last three months, it was also to remind people that there were women in the struggle, many of whom are also back in america suffer from the same mental health problems as their male colleagues.
"It is not even if we were hurt. Sometimes people forget that we are in the army," she said. "Even along this walk, people would come to shake the hands of the boys and turning their back to me… It was important to show that we have the same help as our male colleagues and not to forget that we exist."
For the last walk on Thursday, the team – up of Perez, Loar, U. S. Marine Corps Sgt. Larry Hinkle, Royal Logistics Corps Kev Carr, Royal Signals Kemsley Whittlesea and Royal Anglian Jonny Burns – were accompanied by former Vice-President Joe Biden and Dr. Jill Biden, who were Biden that the Foundation.
The veterans met with Prince Harry in London a few months before their trip through the United States.
(Walking with the Wounded)
"This is a source of inspiration. This is a journey of courage, love, and kindness, and I am so proud to played a small role," Dr. Biden said during his speech at the Queen Elizabeth II Memorial Garden. "Today marks the end of this walk, but the work must continue. We all have a role to play in raising awareness of the mental health needs of services members, veterans and their families."
She later told Fox News that these men and woman were a source of inspiration for her and her family just as her son, Beau, who joined the army in 2003 as a member of the Delaware Army National Guard. Beau died in 2015 at the age of 46 after battling brain cancer.
"We saw his strength and his resilience. All of these men and women are, like my son," Dr. Biden said. "They have a strong characters. That resilience and courage and that is who they are. They share their stories, and they are so brave."
MARINE VETERAN AMPUTEE REACHED THE TOP OF MOUNT KILIMANJARO: "IT IS THE CLOSEST THING TO HEAVEN'
Kev Carr, who struggled with homelessness and contemplated suicide, after he was discharged from the military 14 years ago, said Walking with the Wounded, saved his life. He now lives in The Beacon, a dedicated veterans center in Catterick Garrison, which helps homeless veterans or those at risk to become homeless. Jonny Burns also lives there.
"The things that I experienced I would not wish it on anybody, civilian or military, or an enemy," he told Fox News. "It was dark. I was in a dark place. I tried suicide, but speaking from what I have learned that not only helps me, it can help others."
The former vice-president added that "It takes courage to come out and say: 'Look, I am fighting internally, emotional problems have to do with what I have experienced. Every city they went to, you can be sure if they ran, there was a wounded warrior who thought, 'if they do this, let the whole world see, maybe I should say that I need help. I need help with my demons."
Each member of the Walk of America expedition had their own journey and the story of the struggle and success to share with the world. For them it was more than just raising money for the charities, but to ensure that the often forgotten heroes – men and women – who return from the battlefield, get the help that they need.
"We have lives to work together, fighting alongside each other and protect each other," Prince Harry said in a message to the group shared on their Facebook page after they are finished with their walk. "And it's people like you that we can look for ways to the together. It can be a much used cliché, but we really are stronger together and you're the proof of that."
To learn more about Walking with the Wounded or to donate, visit their website here.
Lucia I. Suarez Sang a Reporter for FoxNews.com. Follow her on Twitter @luciasuarezsang