Sintnicolaas in tears after a statement on the pentathlon and decathlon at world CHAMPIONSHIPS
Eelco Sintnicolaas was Saturday, however, a little tear, when he because of a hamstring injury his decathlon at the world CHAMPIONSHIPS in London had to end.
The former European champion indoor (30) was the injury in the sixth part, the 110 meter hurdles.
He made the discus yet, but felt afterwards at what oefensprintjes in too much pain to the pole-vaulting to be able to start and decided the battle to cease.
Sintnicolaas was thirteenth after seven parts and had no prospects of a place in the top three. The all-rounder was Friday on the first day some problems with his calf and knee.
Nevertheless he started in good spirits on day two. "I felt pretty good this morning. The pains were under control."
Day 9 of world CHAMPIONSHIP of athletics
The 4×400 meter-women were disqualified because of a false change of Madiea Ghafoor and Lisanne de Witte.
© ANP
Sad faces at Ghafoor, Lisanne de Witte, Laura Witte and Eva Hovenkamp.
© ANP
The Dutch estafettevrouwen qualified for the final of the 4×100 metres.
© ANP
With Dafne Schippers, second loopster klokte Orange 42,64, good enough to serve as one of the two tijdsnelsten by the way.
© ANP
The Dutch mannenploeg had less success. Hensley Paulina, Taymir Burnet, Giovanni Codrington and Liemarvin Bonevacia lost in the series.
© ANP
Usain Bolt drew with Jamaica in the final and made his farewell as a sprinter off until Saturday.
© ANP
Sintnicolaas walked out of his injury in the 110 meter hurdles.
© ANP
Eelco Sintnicolaas kept it after the seventh component seen on the decathlon.
© ANP
Share this photo via:
Back to slideshow
Dirty dessert
The hurdles, however, went wrong. "I think a tear or something," said Sintnicolaas. "All in all, it remains a pity. I was in shape and then it is frustrating that there not coming out. I also did a little tear down, but also know that this sport should be."
"It is a slap in my face, but I'm not being down in the dumps. My season was already a success with my Dutch record in Götzis and I had this WK for myself not so great. It was more of a dessert, unfortunately it is a nasty dessert."
Peter Braun is still active on the decathlon. The Dutchman is busy with three components to the sixteenth position in the rankings.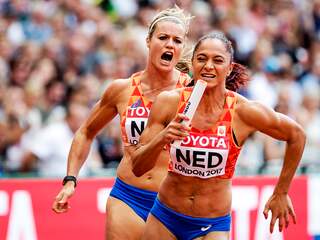 See also:
Skippers to world cup final, 4×100 metres, Sintnicolaas get off at decathlon