Singers Despacito angry at president of Venezuela, after use number

Luis Fonsi and Daddy Yankee have Monday bright out at the Venezuelan president, Nicolas Maduro. They find that the head of state must stop with the use of a remix of their popular song Despacito for political purposes.
Daddy Yankee calls Maduro on Instagram a dictator.
Maduro used the music of the popular song during his weekly television program Sunday for a private version for his proposed constitutional amendment to promote. It's been months restless in Venezuela and the socialist government of the country wants, according to the opposition to amend the constitution in order to stay in power.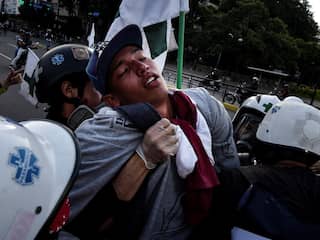 See also:
Heading Venezuela to a civil war?
No permission
"There is to me at no time asked for permission to give the number Despacito to use for political purposes," writes the Fonsi in a statement on Instagram. The Puerto Rico-born singer is not to speak about the government of Maduro. "The state of Venezuela, a country that I love, currently is in is outrageous", says Fonsi.
It added Daddy Yankee: "You dictatorial regime is a joke, not only for my Venezuelan brothers, but for the whole world", wrote the rapper in response to the video of president Maduro.
Listen to the song Despacito