Secretary of state does not feel anything for tax on animal products
Secretary Martijn van Dam of Agriculture does not feel anything for the introduction of a tax on animal products (meat, cheese, dairy).
It is not up to the government to determine what the consumer is on his plate, he says in the Volkskrant.
"Of the usefulness of this, I am not convinced. Or a pack of chicken breast 2,20 euro cost or 2.50: does that really matter? In large supermarkets you can since a while, only buy pork cuts with a Better Levenster of the Cspa. Then you can say: that is still not enough. But it is a significant step," says Van Dam.
The government must people, according to the secretary of state not telling them what they should and should not eat. "The government is not in the kitchen to see", he commented. The netherlands wants to work towards a healthy and sustainable diet, but do not plan development to enforce by animal products are more expensive to make.
RIVM
The national Institute for public Health and the Environment (RIVM) wrote this week in a report that if the Netherlands are climate you want to achieve, we become less animal products should eat. As an example of a measure to the consumption of meat to reduce suggested the RIVM meat is more expensive to create, through an additional tax.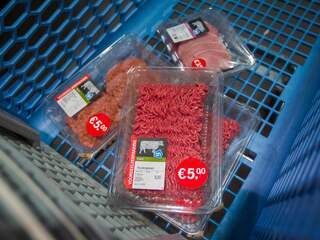 See also:
'Less meat good for the environment'