close

Video
California firefighter killed battling wildfire
Braden Sickle was killed fighting a fire near Yosemite National Park.
A firefighter was killed Sunday when he was fighting a huge forest fire near Yosemite National Park, marking the second fire-fighting death since the fire started more than two weeks ago.
The fire brigade, which as Brian Hughes by the Los Angeles Times, was working with a crew to remove brush and other fuels in the area of the fire on the front lines, spokesman Mike Theune said Sunday.
#BREAKING Second firefighter to lose his life to fight with #FergusonFire has determined: "The firefighter that lost his life in an accident on the fireline this morning has been identified as Brian Hughes, Captain of the Arrowhead Interagency Hotshots. He was 33." pic.twitter.com/RBPKhbAxj2
— Megan Rupe (@MeganRupeTV) July 30, 2018
Hughes, captain of the Arrowhead Interagency Hotshots, was killed after he was struck by a tree. The 33-year-old was treated at the place of the so-called Ferguson Fire, but died before he could be admitted to the hospital.
"The team from Sequoia and Kings National Parks is devastated by this terrible news," Woody Smeck, superintendent of parks, said in a statement. "Our deepest sympathy goes out to the firefighter's family and loved ones. We grieve this loss with you."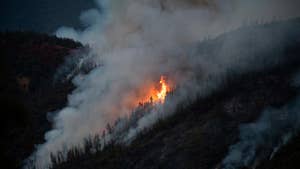 Video
Firefighters battle a deadly wildfire near Yosemite
The tragedy comes two weeks after the death of the Braden Varney, a 36-year-old California firefighter who was using a bulldozer to prevent the flu from spreading.
The bulldozer rolled as a Sickle is used to cut a firebreak, and the first reactions were not immediately able to retrieve his body.
The Ferguson Fire, which has already been ablaze since the 13th of July, was 30 percent contained as of Sunday afternoon, according to Fox 40. At least seven other firefighters injured while fighting the fire.
Yosemite Valley remains closed, and it will temporarily display for park visitors in August. 3.
The Associated Press contributed to this report.
Nicole Darrah cover breaking and trending news for FoxNews.com. Follow her on Twitter @nicoledarrah.